PIRI

& GAYLENE

SCIASCIA

Piri John Sciascia b. Waipukurau, 6 November 1946
Gaylene Ann Sciascia (nee Wilson) b. Auckland, 3 September 1948
Married: 17 February 1973
Children: Teone Wirihana (32), Ana Torouka (30), Tumarangai Samuel (25), Makere Te Whanawhana Stirling (23), Teresa-Atareta Te Rangimarie (22)
Grandchildren: Mia Niwreka (4), Taoka-Jemal Kaweriri (3)

Piri was raised in Porangahau amongst the passion & hot-blood derived from his father's family (Ngati Kahungunu, Ngati Raukawa) and etiquette & blue-blood from his mother's family (Ngai Tahu); A well balanced mix that grew with Piri as he went off to school at Te Aute College. Later on, Piri successfully auditioned for the Maori Theatre Trust and toured Europe before heading south to study at Otago University where he met Gaylene.

Piri and Gaylene lived their first years of marriage in Dunedin. They moved in 1975 to Palmerston North, where they both worked for some years at the Palmerston North College of Education. Here, they enjoyed living a lot closer to home and became involved in various hapu and iwi activities, which included establishing Tamatea Ariki Nui – a kapa haka group which still performs & competes today, thirty years later. In 1981 Piri and the family moved to Wellington where he first worked as Director of MASPAC, QEII Arts Council and worked extensively with the Te Maori exhibition in the early 1980s. He has since held senior positions with the Department of Conservation, Te Puni Kokiri and is currently the Pro-Vice Chancellor (Maori) at Victoria University of Wellington. During this time, Piri has contributed on numerous national and iwi boards.

Piri has a strong interest in whakapapa and is regarded by his whanau & hapu as an authority of whakapapa & tikanga Maori, he has been a prominent speaker for the hapu & iwi for over thirty years.
Piri was involved in both the McGregor reunion (1972) and the Sciascia reunion (1988) and travelled with his son, Tumarangai in 1997 on the Sciascia family trip to Italy, which was instrumental in making a significant connection between the Sciascia family from Aotearoa and the Sciascia family in Italy. Since then, Piri has returned to Italy in 2003 with two of his children, Ana & Makere to visit Michael Sciascia and his family which was documented in a Maori language programme, He Hongonga Mareikura. Piri was also a member the steering group for the Qui Tutto Bene exhibition at Te Papa 2006-07 which looked at Italian families & communities in New Zealand. Since the 1997 Sciascia pilgrimage to Italy, Piri has adopted and has been an advocate for the correct pronunciation of the 'Sciascia' name. Piri's interests include: Writing, NZ Mens Movement, South Island landscape, exhibitions, human capital development, local histories, Maori art and Maori manuscripts.

Gaylene was born in Auckland, and moved to Tauranga when she was 7yrs old. Here, her family held a tremendous spirit of service to the community and played a significant role, particularly within the Catholic Church, Lions, Dance, Golf, Swimming, Education, Business organisations. Sport and Dance filled Gaylene's life during her school years. She studied at Otago University, then later went on to complete her Masters in Fine Arts in America before returning to Otago University, where she met Piri. As well as raising five children, Gaylene has had a successful career in the arts and is currently the Director at Whitireia Performing Arts, which she started in 1991 – the programme tours internationally each year which has included several trips to Belgium and Italy where she and daughters Ana & Atareta have meet & stayed with Sciascia family members from Italy. Gaylene's interests include: Her mokopuna, Tamatea Ariki Nui, & Waka Ama - where she won gold last year at the Worlds and is currently training for next year's World regatta in Sacramento, USA.

Piri & Gaylene have lived in Whitby, Porirua for the past 25 years where they still reside today with their family. While both Piri and Gaylene have travelled extensively, this will be their first trip to Europe together. Both are looking forward to travelling to Belgium to pay their respect to Papa Frank's brother Charles Sciascia.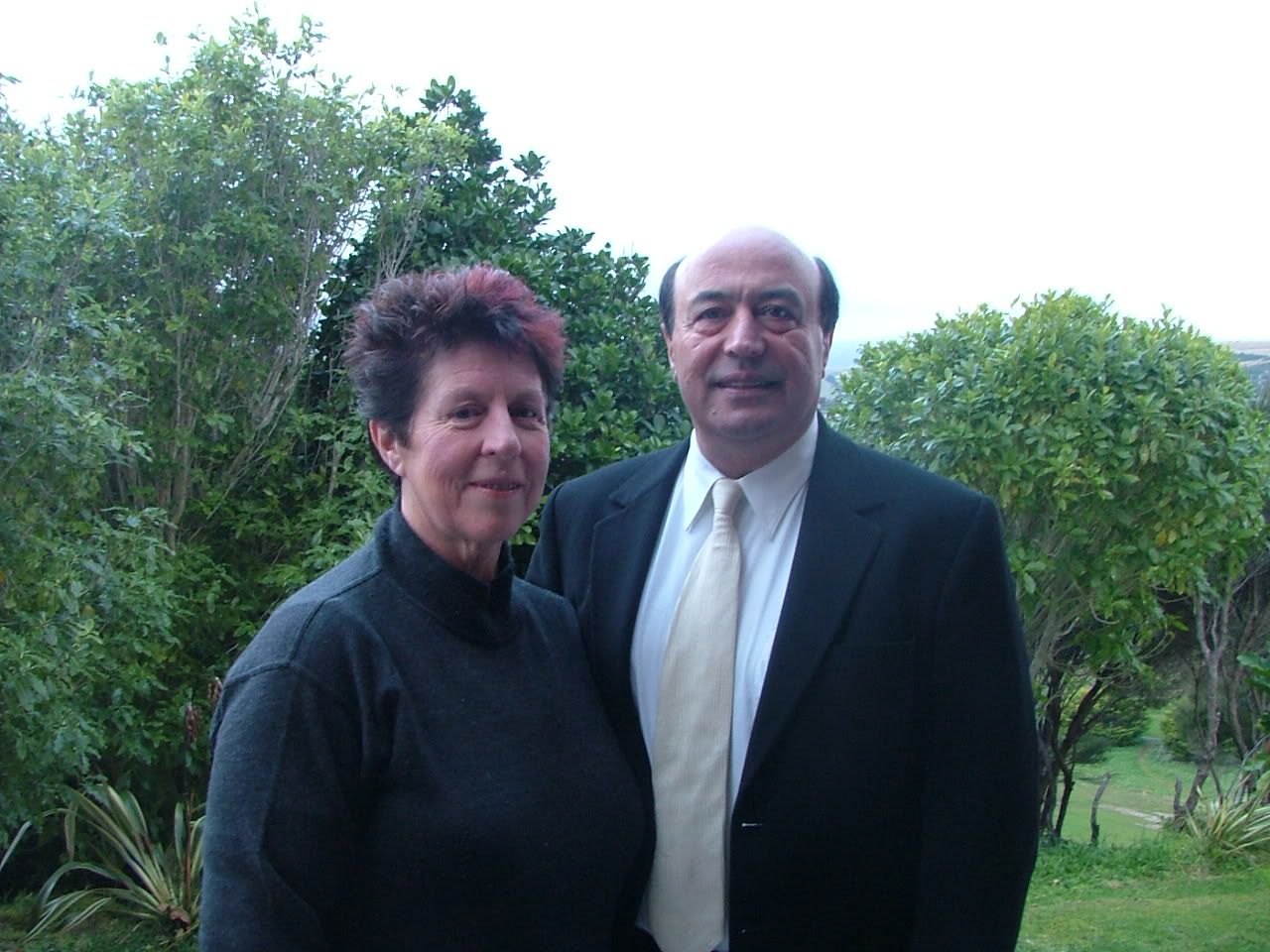 Piri & Gaylene at home, June 2007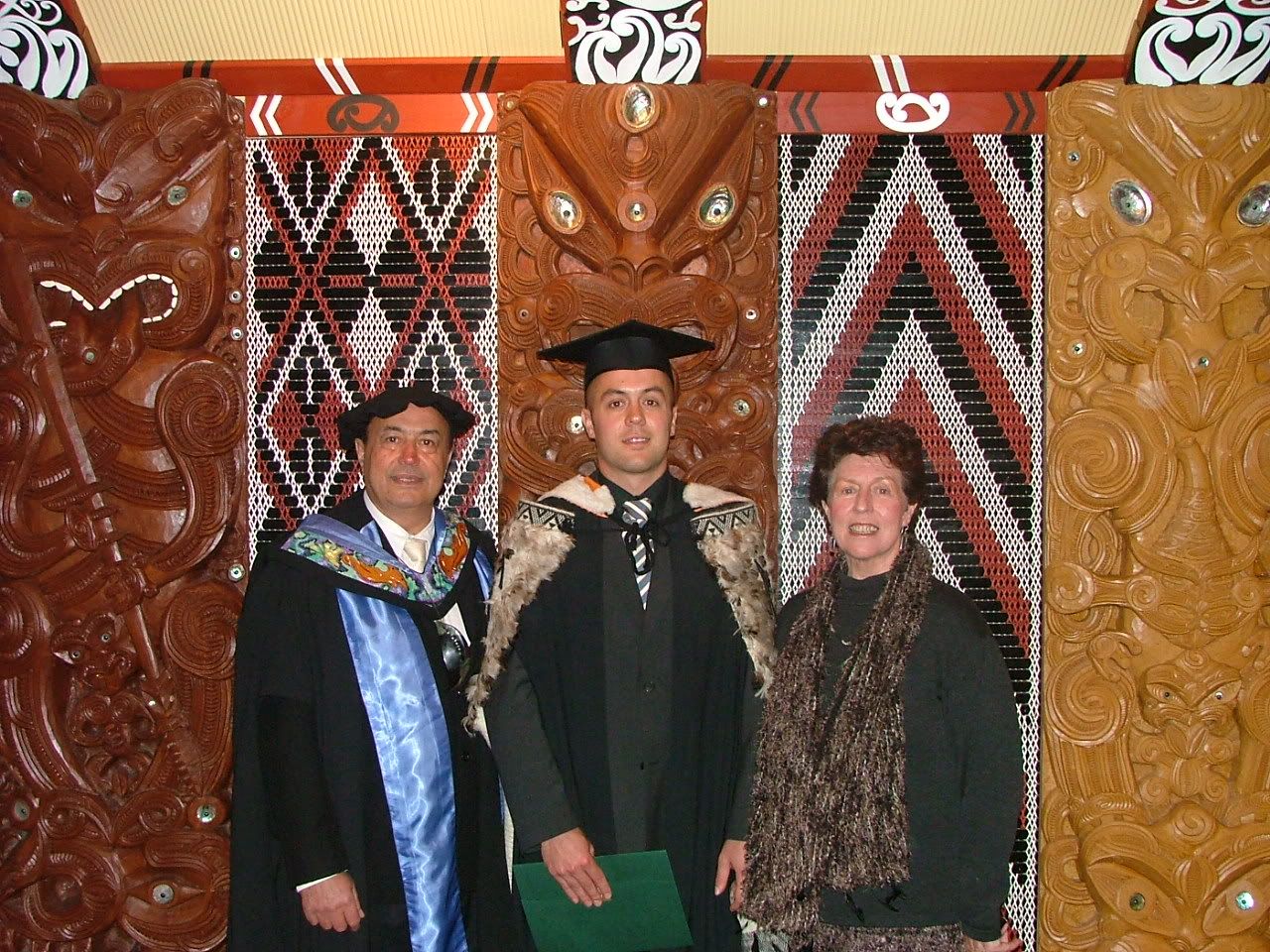 Piri & Gaylene with son Tumarangai at Graduation, Te Herenga Waka Marae, Victoria University, December 2006